IFA 2014: HARMAN stellt kabelloses Lautsprecher- & Konferenzsystem Harman Kardon Esquire mini vor
Das dünnste All-in-One-System für portablen Musikgenuss und Telefongespräche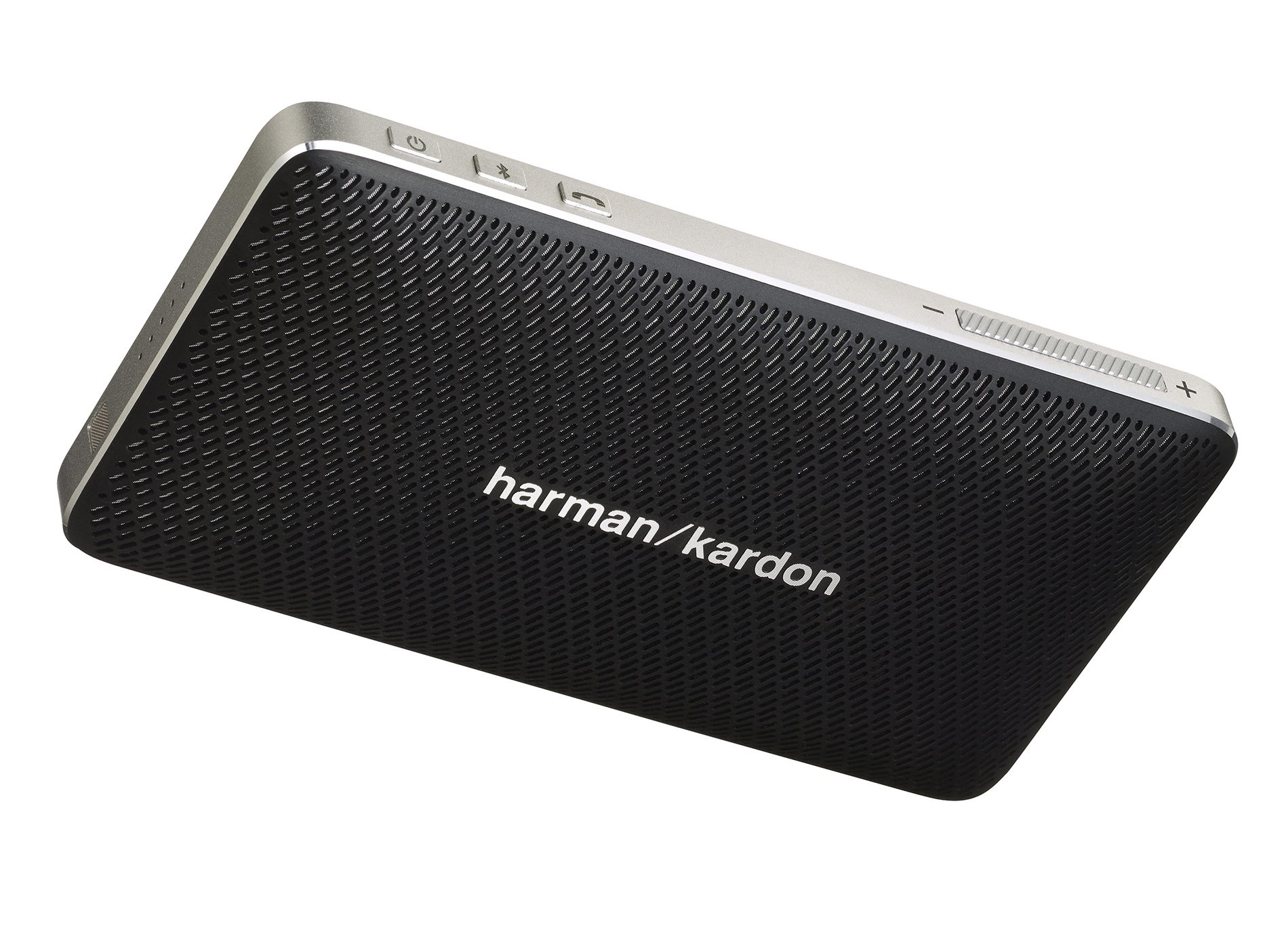 With the new Harman Kardon HARMAN International Industries Mini Esquire presented at IFA 2014, the thinnest portable speaker system. It impresses with outstanding sound, wireless streaming and two microphones for teleconferencing.
Although totally portable and wireless, this speaker offers the best sound in its class. Made possible by the two powerful driver and enhanced bass port design. Thanks to the use of luxurious materials such as real leather trim on the back and a brushed aluminum frame, this travel speaker is a real upgrade on the go.
The Harman Kardon Esquire Mini has a Bluetooth interface and transmits wirelessly so that content from mobile devices. Is complemented by the variety of uses the functionality of a system for conference calls. With two microphones and integrated noise suppression system that will send quality sound and crystal clear conference calls guaranteed.
The integrated rechargeable battery provides reserves for up to eight hours of music playback and is able with a USB cable to charge mobile devices and to power. So the Harman Kardon Esquire Mini does away with unnecessary cables and chargers in the luggage - and presents itself as the perfect travel companion for mobile phones or tablets.
"We have the most compact portable speaker and conference system supplemented with a stunning new design," said Michael Mauser, CEO of HARMAN Lifestyle Division. "With advanced functions, great stereo sound, unmatched mobility and the ability to serve as a charging station for other mobile devices, this speaker is an essential travel companion. Both in leisure and business trips. "
EISA Best Product Award
HARMAN is pleased with the award of the Harman Kardon Esquire Mini with the EISA Award in the category "Best Portable Audio Product". The a range of products from HARMAN with the "Best Product" anxious European Imaging and Sound Association (EISA) has an association of 50 professional publications in the fields of photography, audio / video, home theater and mobile products from 19 countries award 2014-2015 .
Harman Kardon Esquire Mini
The thinnest portable all-in-one speaker
Outstanding Fertingungsqualität, perfect elegance and performance
Applications from genuine leather and brushed aluminum
Upgrade Bass function
Wireless streaming via Bluetooth ®
Battery for up to eight hours of playback
Versatile conference system with two microphones
Integrated echo cancellation and noise reduction for clear voice playback
USB port for charging mobile devices
Price and Availability:
The Harman Kardon Esquire Mini will be available in September 2014 with a suggested retail price of 149.00 EUR. For more information about the products of Harman Kardon, you can find on the website http://de.harmankardon.com/ .
Specification-Sheet---Harman-Kardon-Esquire-Mini-_German_.pdf
PDF - 1.2 Mb
Herunterladen