HARMAN präsentiert neue Kopfhörer Harman Kardon Soho Wireless
Feinste Klangqualität in einem edlen, einfach zu bedienenden Bluetooth-Kopfhörer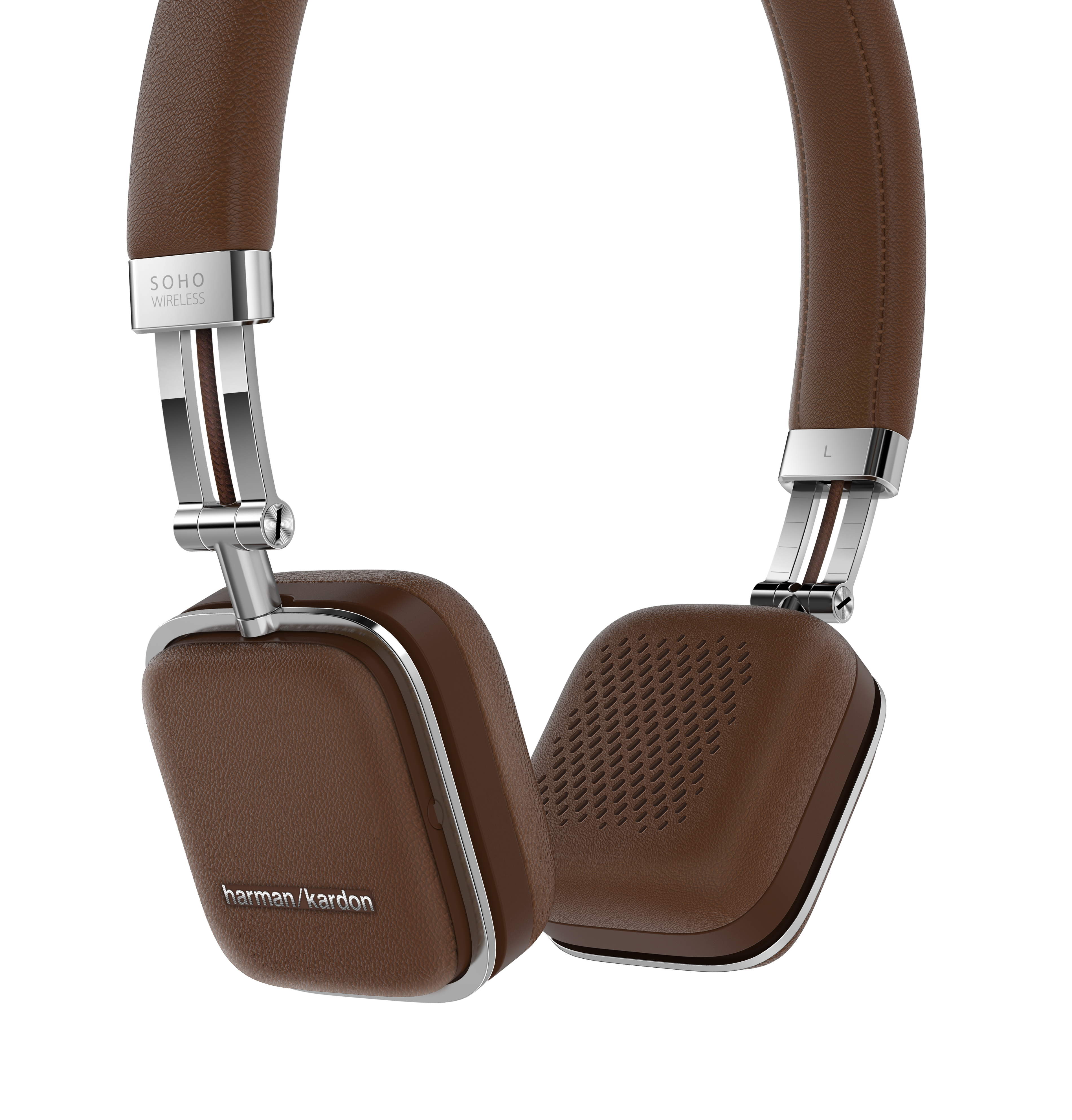 HARMAN International Industries combines superlative sound and wireless entertainment with an impressive aesthetic headphones, the Harman Kardon Soho Wireless. Specially developed for discerning travelers, the Bluetooth headset embodies a sleek and stylish design and boasts beautiful original features such as high-quality processed leather and an adjustable strap made of stainless steel.
"These headphones offer a unique look and improved performance," said Michael Mauser, CEO of HARMAN Lifestyle Division. "Our new Harman Kardon Soho Wireless headphones are so stylish and comfortable that you simply do not want to settle."
The new headphones scores next to the new design with the latest technology: The touch-sensitive controls on the external ear are always easy to reach and provide quick access to the functions - the easiest and most comfortable way of operation. The wireless headphones offer an easy way to connect a variety of mobile devices easily with Bluetooth and NFC.
As one might expect from Harman Kardon premium sound heard here as standard. Specially designed 30-millimeter drivers and powerful neodymium transducers donate the Harman Kardon Soho Wireless crystal clear highs and an improved, thundering bass presence. Equipped with aptX and AAC encoding the Bluetooth transmission is carried out with utmost precision.
But it's not just about style, it is all about lifestyle. And here Harman Kardon has thought of everything: How can the headphones on the way to fold extremely flat, while the durable carrying case Headphones and accessories together securely holds. Thus, the Harman Kardon Soho Wireless presents as the perfect sonic companion for any trip. Whether at work or at play, this headset will quickly become an indispensable companion and find a wireless connection to an increasing number of mobile devices such as tablets, smartphones or laptops. The Harman Kardon Soho Wireless are a statement in terms of personal style and perfectly complement an active life.
Harman Kardon Soho Wireless at a glance:
Premium On-Ear Headphones
Frequency range: 20 Hz - 20 kHz
Impedance: 32 ohms
Maximum power consumption: 30 mW
Sensitivity: 100 dB at 1kHz / 1mW
Bluetooth Ready with NFC
aptX and AAC support for highest sound quality
Ideal for travel, including Targeetui
Price and Availability:
The Harman Kardon Soho Wireless will be available in October. The suggested retail price is 249.00 EUR. For more information about the products of Harman Kardon, you can find on the website http://de.harmankardon.com/ .
Specification-Sheet---Harman-Kardon-Soho-Wireless-_German_.pdf
PDF - 1.7 Mb
Herunterladen